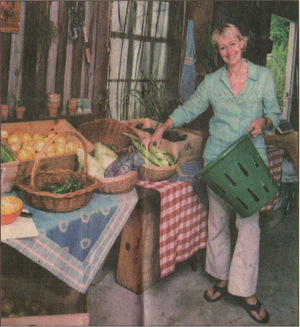 From Michael (Michel)
Welcome! We have been selling fine French and European textiles in the U.S. since 2002. We got into this business when Amelia and I were visiting my grandmother's homestead in Southern France. Amelia noticed the eye-catching tablecloths being sold in the open-air markets of Provence. We brought a few back to the organic farm we ran in Connecticut, and Amelia used them to cover the farm stand tables. Customers immediately wanted the French tablecloths as much as our vegetables, so the following winter we returned from France with our duffle bags full of tablecloths...
Photo: Amelia in the farm stand, The Day, November, 2005
Quality Fabrics
We quickly discovered these tablecloths were practical as well as beautiful. Despite a long, messy season in the farm stand and several open air summer dinners (during which at least a little wine was spilled), they continued to look as good as new. This, we found, was characteristic of the jacquard cotton-poly weaves made in old French mills. They are fabulous fabrics in terms of beauty, quality, durability, and ease of care.
Made with pride & integrity
Our collection has grown considerably since those first jacquard tablecloths we offered, but this commitment to quality remains constant. We continue to hand-select and import our fabrics directly from the old European mills. We've built strong relationships with our suppliers, visit them often, and have begun to develop exclusive designs and products with them. Here we are in Paris meeting with Sophie. She designed many of our Provençal patterns.
Prompt, Friendly & Knowledgeable
Have you met Michael and Michael Too at a pop-up sale? Chatted with Liz or Jackie by phone or email? If so, we hope it was apparent that we truly enjoy interacting with our customers. Whether online or in person, we love helping you find just the right table linens, and we highly value your happiness with our products. Walking into a sale with dishes and upholstery swatches? Emailing photos of your dining room? We've seen it all, and we are here to help with a friendly attitude and years of experience.